'Most pro-life state' Arkansas introduces heartbeat bill mirroring Texas
Thursday, October 21, 2021
Republican Senator Jason Rapert of Arkansas has proposed a bill that mirrors Texas's Heartbeat Law and is hoping to pass the bill later this month.
Quick Facts:
This bill is called the Heartbeat Protection Act and like Texas, it would ban abortions after an unborn baby's heartbeat is detected.
In March, the state tried to pass the Arkansas Unborn Child Protection Act which is very similar to the Heartbeat Protection Act, but it was struck down by a federal judge before it could be implemented.
Senator Rapert has called a legislative session with the hopeful date of October 25.
The September 1 passing of Texas's Heartbeat Law was a major win for the pro-life movement in the United States. To date, the Heartbeat Law has been estimated to save the lives of 132 babies per day, or 4,009 per month.
Arkansas, which was voted the "most pro-life state in America" by Americans United for Life in 2020, hopes to follow suit and implement similar measures in the state.
Senator Rapert tweeted,
"As the original sponsor of the first #HeartbeatBill to pass in America in 2013, today I have ordered a bill be filed in Arkansas to update our law to mirror the Texas SB8 bill which was just passed as a Model Bill at @ChristLawmakers & upheld by the US Supreme Court."
Rapert's tweet included the following attachment: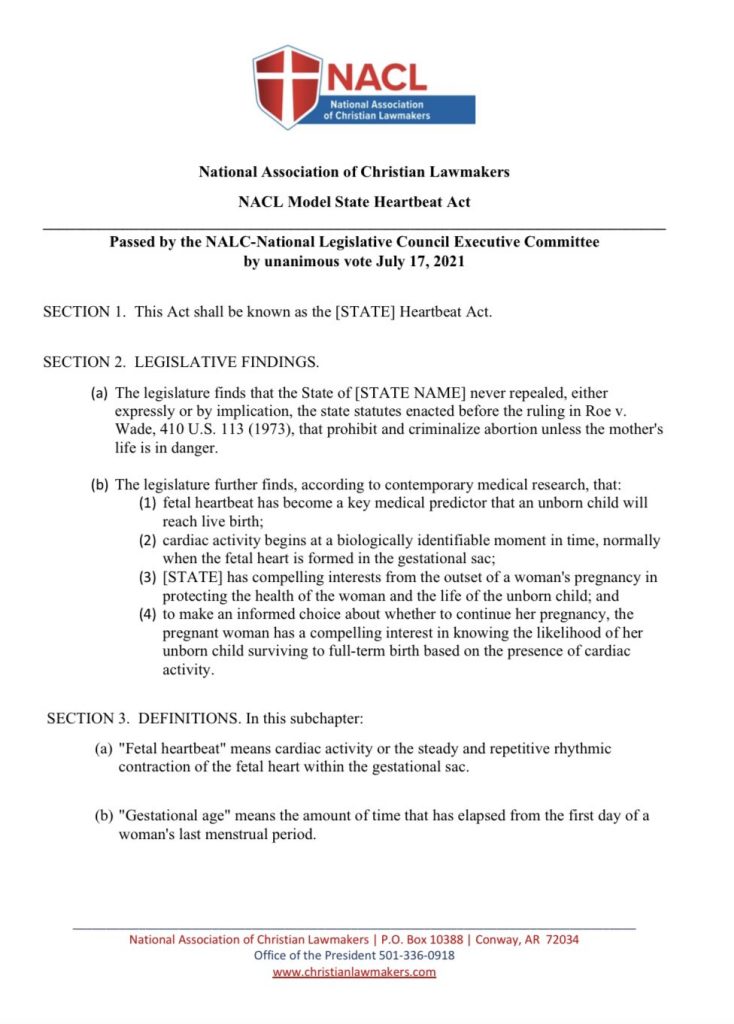 He believes that the Arkansas Heartbeat Protection Act will be passed, due to the pro-life nature of the state.
"It should be easy to pass the Texas-style heartbeat bill in our upcoming special session," Rapert said. He is currently urging Governor Asa Hutchinson to call a legislative session so the bill can be passed. The tentative date for that session is October 25.
Governor Hutchinson, though a pro-life Republican, said he might wait for Supreme Court insight before allowing the bill to pass.
"We have the opportunity to save the lives of unborn Arkansans today, all the governor has to do is call a special session of the legislature with the Heartbeat Bill on the agenda and we will pass it," Rapert said. "We don't need to wait on the U.S. Supreme Court for guidance – Arkansas people want to stop abortions right now."
The law would be similar to Texas's, as it would outlaw abortion after a heartbeat is detected (around six weeks) and would allow for "civil cause of action." This gives everyday citizens the ability to help uphold the law by reporting those who go against the guidelines.
While this would be another win for pro-life Americans, pro-choice Americans are fighting laws like this one with everything they have.
Planned Parenthood Great Plains' CEO Emily Wales said,
"We are taking this very, very seriously. We know that we have a number of legislators here in Arkansas who are eager to be on the frontlines of ending abortion access entirely ― no matter the impact on the citizens they serve."
"The reality of what this means for the region is very, very real and present," she continued. "It would only increase that crisis to Arkansans who would then be forced to travel, if they can afford to, to states even farther out ― potentially overwhelming the neighboring states that are trying to support Texans."

Like Texas, Arkansas is taking steps to protect and preserve the lives of unborn babies who deserve a chance at life.
We need more government servants like Governor Abbott in Texas and Senator Rapert in Arkansas – individuals who are using their place in our government to protect the innocent and not give in to the dark narrative that says a woman can choose whether her child lives.
With Dobbs v. Jackson Reproductive Health heading to the Supreme Court in December, America's eyes are on the abortion issues.
While it remains to be seen what the results of this case will be, states like Texas and Arkansas are giving us a glimpse of what an America that protects the unborn looks like.